×
RestTrainPlay_Feature
×
Athlete Burnout
Pam Mashburn and expert Mark Fuller, owner of Sports Academy, discuss the importance of training as well as tips on how to keep your child safe.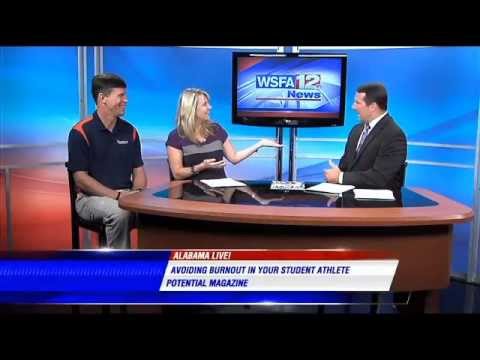 By Darrell Puckett
If you think pushing your student athlete to play his or her chosen sport as often as possible is the best way to help them reach their potential, think again.
Every parent wants their child to become the next superstar athlete, but what are the best techniques to enhance their chances? Mark Fuller is the owner of Sports Academy in Auburn/Opelika, Ala. and has vast experience coaching kids to their highest potential.
Fuller was a four year-letterman and pitcher for Auburn University, where he graduated in 1992. He has over 16 years of combined experience in both playing and coaching baseball. He played pro ball with New York Mets and Colorado Rockies minor-league systems for five years. Fuller's last stint as a coach was at Auburn, where he was the pitching coach for four years. 
According to Fuller, the keys to success in sports include teaching kids sound mechanics and instilling a "less is better" mentality. This may sound simple, but it can be very difficult to master. Most parents want their kids to keep playing year round, but in reality that's the opposite of what works. Fuller created a special technique called "rest, train play" that has helped develop 11 professional pitchers. "There has to be a set number of weeks during the year that an athlete takes a break or plays another sport, but there's also a need to do age- and gender-specific strength training before the season begins again," he said. This rest and strength-training approach can help limit repetitive injuries.
"The only downside of sports is when too much of a good thing is no longer a good thing." - Steve Genetski / Steve's Sports Stars
Resting is essential for young athletes' development. But so is proper training. Fuller advises parents to look for a training facility that has professional instructors. "Find someone who is trained in multiple sports and has knowledge of the positions the athlete plays. Find a trainer/coach that cares more about the child than how much money they are making off the family," he said. Basically, find someone who's credible, knowledgeable and has a good reputation. Stay aware of what your teen is doing. "Don't let your child overwork their body, and be involved with the personal development as they train and practice," Fuller said. 
"Don't let your child overwork their body, and be involved with the personal development as they train and practice." - mark fuller / sports trainer and former Auburn University pitching coach
When it comes to travel sports, and how their rigorous schedules can affect the whole family, Fuller shared this perspective. "Parents need to make a decision that is best for the entire family, not just one member," he said. "The mental/physical difficulty and family stress is real, so I hope families will be wise before saying 'yes' to a travel team." 
Making good grades and playing as many sports as possible will enhance your child's scholarship opportunities, but having an off-season for rest and the right training are equally important.
Going Strong
Coach and sports mentor Steve Genetski of Steve's Sports Stars offered his advice on preventing burnout.
Involvement in sports can be a wonderful experience for student athletes. Physical and health benefits are both derived from daily training and exercise. Healthy competition not only challenges individuals to put forth their best effort but can also be fun and exciting. In my opinion, the only downside of sports is when too much of a good thing is no longer a good thing. I love chocolate, but if I eat too much of it, I'm going to be sick. It's called the law of diminishing returns.
Burnout in youth sports is a common experience in today's world. Many years ago when I was starting my baseball career, the average baseball team played approximately a dozen games a year. I recently met a 10-year-old boy who told me he was retiring from baseball to take up lacrosse. He had played almost 100 baseball games the previous year and told me it was no longer fun.
  The emergence of travel ball teams has changed the landscape of youth sports.
Some of today's athletes play more games in one year than their parents played in a lifetime. I am not saying that there is anything wrong with the new paradigm. Personally, I would have loved to have had the opportunity to have played that often. But while it may be right for some athletes, I don't believe it is right for all. Some young people are burning out because of overexposure to their sport. It is the extremely rare athlete who will ever earn a living playing their sport. Success in academics is far more important for one's future than success in sports.
I believe that in athletics, just as in life, balance is essential to health and happiness. The most successful athletes I know always put their studies first. They also have other interests aside from their sport. Parents need to make sure their student athletes lead balanced lives. Then, they will be much more likely to continue enjoying themselves and avoid the burnout.
Learn more about Steve at www.stevesportsstars.com.
Ask the Expert
Robert Kohn, a physical therapist and Vice President with
Rehab Associates in Montgomery, shed some additional light on the importance of proper rest and training for preventing injuries
Q. Why is it important that a student athlete take breaks from their sport when it comes to preventing injury?
Taking a break from a sport allows an athlete to not only take a physical break from the sport but also a psychological and emotional break as well.  Very often, kids can have "burnout" if they focus too much on one sport. Focusing too much on one sport or activity affects the body in many ways including muscle breakdown, altered mood and also deceased performance.  If you play multiple sports, your body can rest on the repetitive activity that one sport provides while it performs different actions that focus on different physical demands.
Q. Explain the importance of age-appropriate, gender-appropriate and even sport-specific training when it comes to injury prevention.
When you focus on sport-specific activity, you are training the body to perform at the levels that will be expected during games/practices. If you are training the body in a totally different way than it is expected to work, then the body will not be "ready" to perform at full speeds. If the body is not trained properly, the body will not be prepared to protect itself during high impact activity or long duration activity. If the muscles and neurological systems of the body are "prepared," then it will help protect against overuse/chronic injuries as well as the acute fractures and ligament tears.
Q. What is your advice to parents of student athletes who are worried about repetitive injuries?
If you are worried about chronic or overuse injuries, prevention is the ultimate goal. Kids need to learn how to protect themselves against injury by properly warming up and also properly training their bodies to be prepared for the sport specific activity. There are many certified strength and conditioning professionals in the area that can help with this. We have several at Rehab Associates that can provide this one-on-one training for athletes and who have been successful in not only preventing injury but also increasing performance.